Chute du Carbet (1st chute)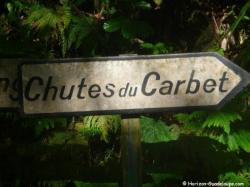 Starting point of our walk : the National Park reception area above Saint-Sauveur near the Grand Etang. National Park rangers are there to give you any advice on hiking, and answer all your questions. They are very welcoming and it is very nice to chat with them. A contribution of € 2 per person, is required to access the falls. A ticket is issued to you , it probably helps to know how many people are gone, and how many are returned. If one or more people did not come back , the guards are aware ( at least, I suppose) . From the Park area, a concrete ramp allows access to the "view " view on the two largest falls. It also allows disabled people to access it.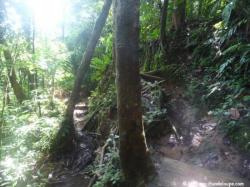 Our opinion : Good shoes needed. The announced time required for this hike is 4 hours round trip. It begins quietly landscaped paths, the same that lead to the second fall of Carbet, then after 15 minutes of walking, it branches off to the right, and there ..... it starts to get tougher ... :) We took pictures throughout the hike, to give an idea of ​​the course .... It rises constantly. After half an hour of walking we reach the stairs, wooden fittings over a long part of the way, built by employees of the National Park. That's what we thought ... the most difficult climb those stairs! It did not finish. After every turn we say it's going to stop ... :) well no boards to make those steps have been made on their backs ... hat! At these steps, we pass several hikers who turned back without reaching the end. For us, it continues ...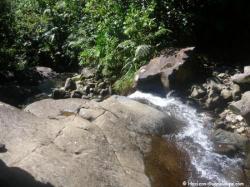 Then we get to a river that must be crossed. This peit stream can quickly turn into a torrent in heavy rainfall. Better check the weather before starting the hike. The first fall of Carbet is not far off. However we do not see it, and we did not hear. The route is now quite sporty, some tricky passages, or uphill slope. In places the strings were installed to facilter progression, to cross some rock sections. Good shoes required. At the bend of a path, after more than two hours of walking, the first fall is finally in sight. Below, a sign indicates' First fall of Carbet; 115 meters high. "Here we are! The show is magnificent. A fall of 3 levels. The rock is paroie ocher because of mineral salts contained in water. We sat on a rock, get out the busting crust and admire the site..
The way back, downhill, is easier. We reach the reception area. Behind us, the Carbet waterfalls begin to disappear in the mist. Last look to enjoy the view platform, above the visitor center. It was a beautiful day, full of surprises, sometimes when doubts, and also of wonder! Find themselves at the foot of the fall, it will remain unforgettable! And we can always say the first fall of Carbet, Guadeloupe .... we have done! ;)