Ilet Gosier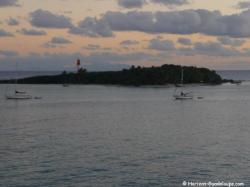 The islet of Gosier, as its name suggests, is in front of Gosier ... logic. :) Pleasure boats around. It is possible to go with the fishermen. His red lighthouse beacon harbor entrance of Pointe-à-Pitre, dangerous passage for boats, because of many coral reefs. Trees, coconut palms and sandy islet of Gosier is a little corner of paradise popular with tourists on weekdays and from Guadeloupe families on weekends. In order to reach the iliet Gosier, go to the pier where a small boat awaits. He shuttles to the islet from 8:00 to 5:00 p.m.. To access the pier, cross of Calvary Landscape Park (a few dozen meters from the church). The price return is 3 euros per person. Certain people go there by swimming ... We preferred to go there by boat :)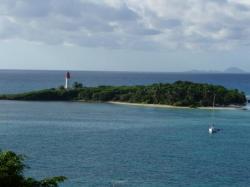 The place is completed to make of the dive with mask and snorkel(tuba). Do not go without, go on the îlet throat, you will cross(spend) a very pleasant moment there!
Our opinion(notice): if you go on the îlet for day, think of taking a little money(silver). You can taste(savour) accras or fish burned(blown) out at Robinson, a small restaurant-snack bar, under coconut palms, at the edge of a small beach(range). In apéritif the traditional ti-punch. You can also take your own picnic which you can taste(savour) under carbets. Swimsuit, palms(flippers), mask and snorkel(tuba), here you are ready for one good day! Concerning the crossing, there are no really precise schedules. The small boat makes shuttles throughout the day.
---
To the islet...
Here we are...
View on Gosier and on the Basse Terre...
Le phare...
Le phare et le resto-snack chez Robinson...
View on Gosier...
The church of Gosier...
Back to Gosier...
---
Updated :
Since our visit, the pier to go to the islet has been totally redone. The small fishing boat still commutes and the price is still 3 euros / pers. The town has beautiful amenities, the result is magnificent. A sea swimming-pool was also equipped ...