Ilet aux oiseaux (birds island)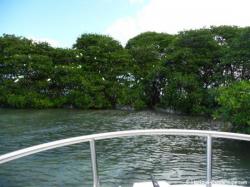 To get to the "ilet aux oiseaux" (birds island), we rented a small boat without a license. Our goal that day, visit the islets of the marine cul de sac. Unfortunately, time was not of the party. The tour was cut short due to bad weather, wind and threatening skies. If we did not have the opportunity to see other islets, even when we had the opportunity to take a little break to the islet birds. From the coast, you can see the islet dotted with small white spots ... are found in the marine Grand cul-de-sac a large number of species, corals, crustaceans, molluscs, fish and birds ....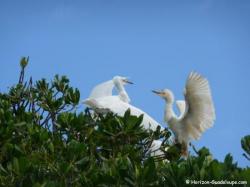 The islet birds aptly named. From a distance, we see small white spots on the mangroves ... Approaching slowly, birds can be observed very closely. We got to ride with LibertiBoat. Boat rentals without license from the port of Morne Rouge (Sainte-Rose). This formula allows to discover mangroves and islets of the marine cul-de-sac without skipper nor guide ... freely. That day, our walk somewhat shortened due to bad weather did not allow us to see what we wanted to discover. It is only a postponement ! ...
To contact LibertiBoat, visit our partners
---