Saint-François - Grande Saline beach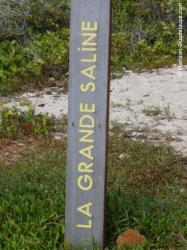 In the town of Saint Franços, just before arriving at the "Pointe des Châteaux", on the left, behind the vegetation, beach of "Grande Saline". A wild beach, very long. Located at the eastern tip of Grande-Terre, it is very ventilated and pleasant result in strong heat. The view is beautiful. Opposite the island of Desirade, on the right, the "Pointe des Châteaux". The beach is protected by a coral reef, but the waves pass easily above and can be powerful when arriving on shore. There is always a strong side current. A few meters from the shore, the rocks form "pools" natural where you can observe fish using snorkel.
The path...
We pass near the Petite Saline, salt water pound. This space is protected (nidifiaction area birds) ...
Petite Saline...
The beach...
Seabed and Désirade island...
---